Join our Happy Workforce!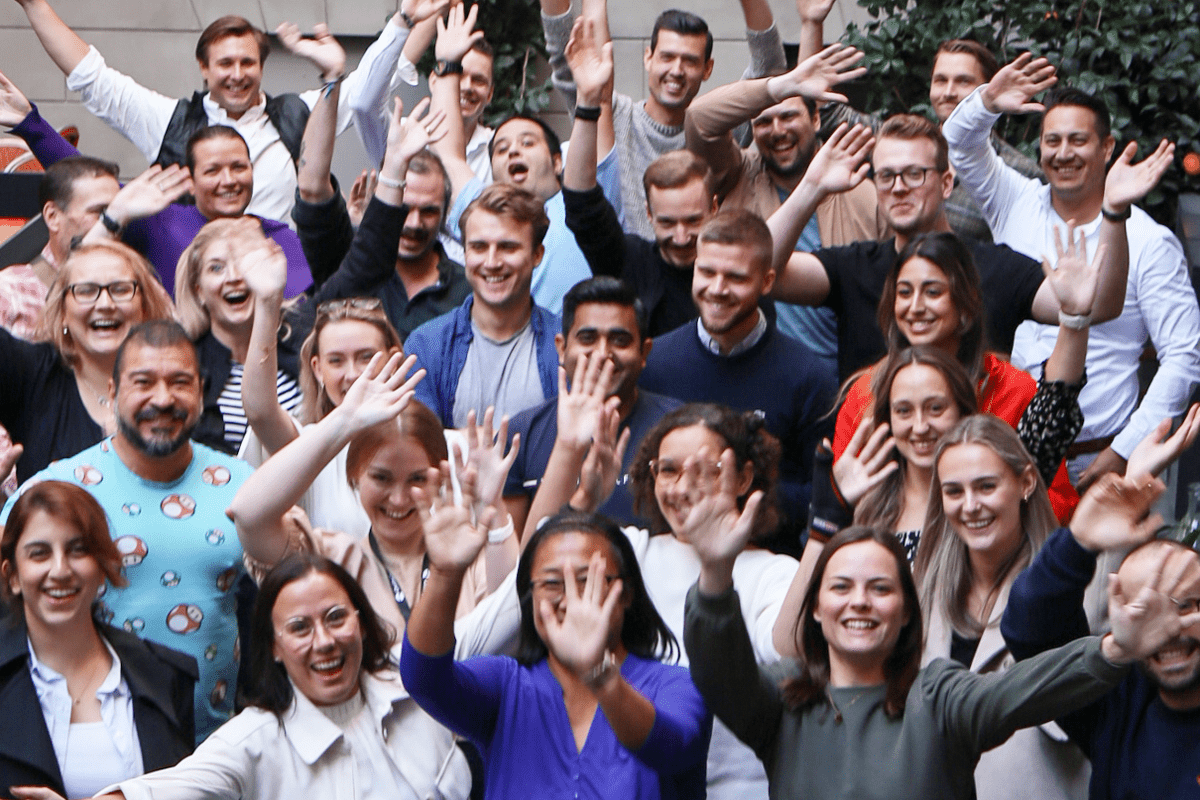 Let's grow together
At Quinyx, we create a better life for millions of people by improving their work lives. We want to see happy employees, happy customers, and happy businesses. And we want the best people to help us make this happen.

Do you have what it takes? We're growing fast and looking for fantastic people to join our team. You need to be fuelled by a desire to make a real difference and impact in the world, ready to begin an awesome journey and prepared to make magic happen with us.
As a member of Quinyx, you'll be part of an inclusive and diverse workplace where we want you to be yourself and enjoy work. You'll be given the opportunity to make an impact and directly contribute to our success. Along with continuous learning, you'll have the chance to work and interact with innovative people from all over the world.
Life at Quinyx
We've built a collaborative, transparent, inclusive atmosphere here at Quinyx and are committed to supporting one another! We are an innovative, agile, and continuously growing tech company whose core values are innovation, simplicity, quality, and, first and foremost – passion!

Our global team, of 30 nationalities, have fun together, whether it is during a typical Swedish Fika, workshop, going for a run with a colleague, or spending time together during the annual company Goal trip, team kickoffs, or after-work socials.

We'll provide you with the training and tools needed to be effective and successful, flexible working hours, pension, a generous amount of vacation, wellness and professional development contribution - among other great benefits, and last but not least, you'll have the chance to participate in our well-known ping-pong tournament!
We are Quinyx
The new generation AI-Driven Workforce Management. Join us on this exciting journey.
A place to belong

At Quinyx, we believe that diverse teams foster innovation, success, and an inclusive culture. We want to ensure that everyone can bring their true selves to work! After all, our most important asset is our people.

We're united when it comes to our care and effort to make the workplace enjoyable for everybody. We're bold and innovative. We push the limits of what's possible that provide us with opportunities to create the most advanced and user-friendly product for users across the world.

AI + WFM = our teams made it possible

We're proud of our teams, who are developing a progressive AI WFM system. Quinyx's built on the foundation of intelligent forecasting that predict employees' absence, optimizes staffing, analyzes employees' happiness, saves time & costs, and increases sales opportunities by utilizing algorithms, trends, and historical data.

All this's possible thanks to long-term retention, strengthening domain knowledge, the balance of technical seniority, and a self-leadership way of working between the teams.

Our culture

At Quinyx, we have an open and inclusive work culture. Everyone's welcome to share their ideas, experiment, and move the innovation forward. The agile way of working allows us to be flexible and quickly adapt to changes while we're solving complex challenges.

We value transparency and open communication that helps us to stay efficient, learn from each other and drive knowledge-sharing during our lunch & learns, Fridays Fika, or daily stand-ups and slack communication.
What's it like to work here?
Learn more what Quinyxers say about us!
Happy to say I've fallen into the company with some like-minded nerds here at Quinyx. Whether it's discussing what exactly makes analytics cool, the art of a good Swedish dive bar, Shania Twain, or the (promising) state of modern horror films, there are good people who abound! Even if they all have a tendency to make even less funny jokes than mine.

Erik McKay

Product Manager

My favorite Quinyx feelings/moments are my day-to-day moments when I'm surrounded by my colleagues in the lunchroom. Not only because I love a good lunch, but the chat and the laughter make me feel energized and inspired.

Ebba Wittbjer

Lead Customer Success Manager
About Quinyx

Quinyx is a Workforce Management solution that empowers the workforce in service industries to make people and businesses grow.
Quinyx was founded by CEO Erik Fjellborg when working at McDonald's. After seeing how difficult it was for managers to sort shifts manually, Erik created Quinyx, the market-leading workforce management software, which transformed and radically improved the industry. McDonald's loved Erik's solution and became Quinyx's first customer.
Today, Quinyx helps more than 1000 companies around the world to optimize schedules with AI forecasting, make time reporting more efficient, reduce costs, stay compliant and engage with employees.
Already working at Quinyx?
Let's recruit together and find your next colleague.